Okay, so I'm spending the week wrapping things up for SPX. MK and I will be at table H-16, next to Tugboat Press and Alec Longstreth! Come by and say hello if you're there!
The secret project that MK and I have been working on for the show is pretty wrapped up, so the rest of the week is getting my old mini-comics ready to be reprinted. As a spoiler, here's a mockup of the cover for our secret project:
The reading last week at Powell's went well. Here's my favorite picture from the event, taken by my friend Courtney. I was illustrating through hand gestures how the more words in a panel you use, the less room the artist has to draw.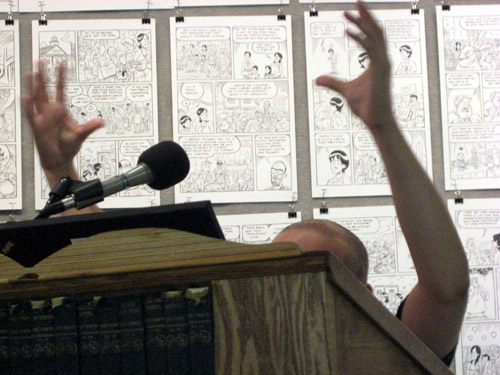 Hopefully once I get back, and I can start working on some stuff for myself again. I had a really good work-groove going on the last couple of weeks, and I want it to keep going!
And a new Save Apathea! website will be popping up soon now that we've finished serializing the comic. I'll keep you updated.