[Reposted from SaveApathea.com]
Americus is out! Yay! Head to your nearest bookseller and get you one!
I spent most of Tuesday afternoon hanging all 200 pages up at the Basil Hallward Gallery on the 3rd floor of Powell's.
It was pretty awesome to see the pages up on a wall instead of in a stack in my flat drawers. Also kind of weird to see them all up and think 'This was three years of my life.'
Here are some pictures: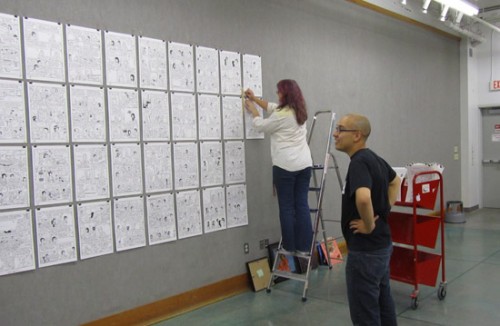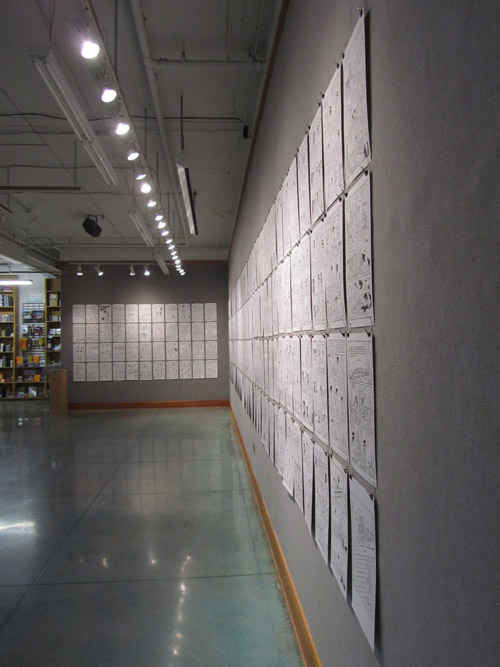 All of the original pages are for sale, except for this one and this one. Most of them will be priced at a low $100, though ones that have had a significant amount of digital alteration will be cheaper at $65, and some of the cooler Apathea sequences that I'm kind of attached to will be priced at $200. I still need to go through and make the price list, but I will post that stuff here when I do, as well as the contact information for the gallery in case anyone is interested in buying pieces.
If you're in Portland, don't forget to swing by tonight for the opening reception and reading. I'll post some pictures of the event afterwards.
And Kathy Moon reminded me that our guest book review of Teenagers from Mars was featured on Unshelved last Friday. You can check it out here.