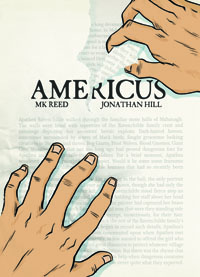 Again, sorry I haven't been posting here at all this month. MK and I have been really swamped getting our secret SPX project together and then we've been doing lots of odds and ends getting ready for Americus' release next Tuesday. With everything that's going on, I'm just going to post some news tidbits:
• First, a recap from last post. Americus was picked for an ABC New Voices and then there was a review in Publisher's Weekly.
• We were also nominated [along with many other great First Second Books] for the 2012 YALSA Great Graphic Novels for Teens.
• There was also a review in the Kirkus Reviews. It's the first one that I've found from a major publication or review source that has been negative. The summary of the review is basically 'The heart of the book is in the right place, but the writing and art are lacking'. At least our hearts are in the right place! I'll take that over a lot of other negative things any day.
• There's a lot going on at Powell's next week to celebrate the release of Americus! And it's all going down on Thursday the 1st. Be there!
All right. I think that's it for now! Don't forget to buy Americus next week!