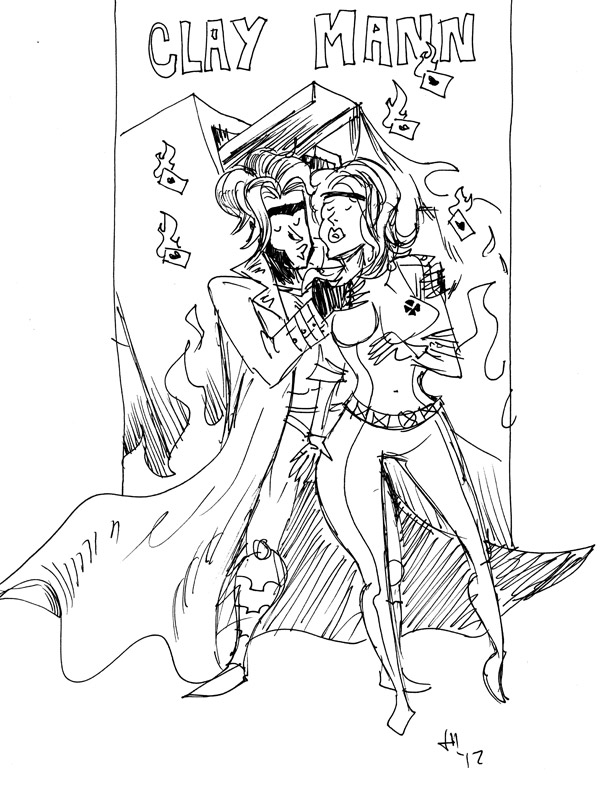 Above image after Clay Mann, who was across the aisle from us with a giant banner with this image behind him. I mean no disrespect. Well, maybe.
Emerald City Comicon was a pretty good time. If one wanted to use modern vernacular, you could describe it with words like, 'Sweeet!' and 'Tiiight!'
Last fall, SPX was the first convention in a long time, and it had been an even longer time that I had been to a con like ECCC. By that I mean a stereotypical comic book convention with costumes and dudes selling sexy fan art of superheroines, etc. Not since maybe San Diego in 2004? Wow. That was a long, long time ago. I think the fondest memory of that con was Dark Horse giving out free Hellboy movie posters and my friend Tony wanting to take a bunch, with me scolding him saying. 'Dude! Only take one so that everyone gets a chance to have one.' only to find out that people grabbed them in troves and then sold them on ebay for like $75 bucks a pop the next day.
Anyhow, the highlight of the show was getting to spend time with the totally radical Breena Wiederhoeft and talk shop, commiserate, comment on the cosplayers walking by, and just generally hang out. Despite tepid sales, and it not really being maybe the best audience for a book like Americus, it was pretty great to just see so many people so excited and enthusiastic. It's so contagious! All weekend I was thinking about how I couldn't wait to get home and get the ball rolling.
There were also a handful of people that had read Americus either online or in print and wanted to come by and say hi, or just people that wanted to come by and talk shop or ask questions. Connecting with people like that is the plus side of being stuck at a table for 8 hours having people walk by and judge you and your work.
Another highlight: Greg of Tugboat Press is pretty much the most awesome dude on the planet for many, many reasons. One of the tangible ones are his Free Comic Book Day book, Runner Runner. I'll post my one pager I did for it soon, but it's got a really awesome cast of creators: Drew Weing, MK Reed, Jesse Reklaw, Joey Alison Sayers, Nate Beaty, Alec Longstreth, Kazimir Strzepek, Lilli Carre and many, many more. If you're at a convention this season you can probably pick one up, and if not, get it May 5th at your local Portland comic shops for Free Comic Book Day!
Other major bonus: MK was also in town for a last minute West Coast appearance! Great to see her and also good news: She got accepted in PNCA's lo-residency MFA program, which means she'll be around in the summer! Yay!
On Sunday the sun was out, and two days of convention tabling is about all I can handle, so I skipped out to spend some time around the city with Jen. It was a nice break from the hustle and bustle of the weekend, and a perfect endcap to the weekend in Seattle.
Stumptown's up next, but I have some family issues that might prevent me from showing up. Keep your fingers crossed to every reason for things to be okay.
Anyhow, I'm back and motivated. Let's see if I can keep this rolling. I know it's like two weeks later, but I promise I will post a recap of my class at OCAC this week.