All right, just a heads up – this post will basically be repeated at Save Apathea tomorrow. If you follow both sites, I apologize for the reruns. I've just been too busy getting settled to sit down and work on anything the last week or so. I'm going to try to get some drawing done tomorrow before it gets too hot, so I will hopefully have a new gag posted then.
Anyhow, just thought I'd share some images of my new studio now that I have things pretty much in place: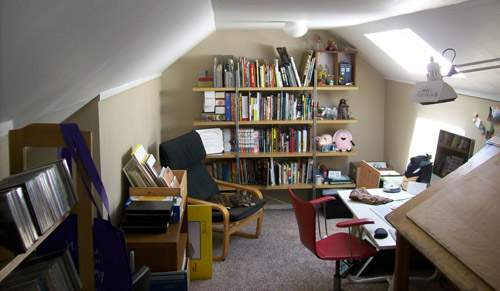 So I've had this old, massive wooden drafting/light-table forever. In my old place, I basically just used it as a table to keep crap on and do some silkscreening. I decided that I'm going to try to fix it up and use it full-time as my drafting table. I still need to get some new parts – mainly new glass and the lightbulbs – which is why there's just a big hunk of wood on there right now. It's also pretty high up, so I think I'm going to give standing and drawing a try. My old studiomate Meg Hunt has been doing it for a couple of months, and it seems to be going well for her. Who knows, I might end up having to get a new stool or chair or something next week.
Here's a better picture of my the table and my new drawing workspace:
I'll post some more pictures once I get the light-table working!
Also, if you live in Portland, don't forget to swing by Floating World Comics  on Thursday for the Papercutter art exhibit and issue #16 release party! Come celebrate Greg Means, his comics anthology Papercutter, and his general all-around awesomeness!