I'm dusting off this blog to write up a post about art… er, I mean computers. I'll do some long overdue art posts soon.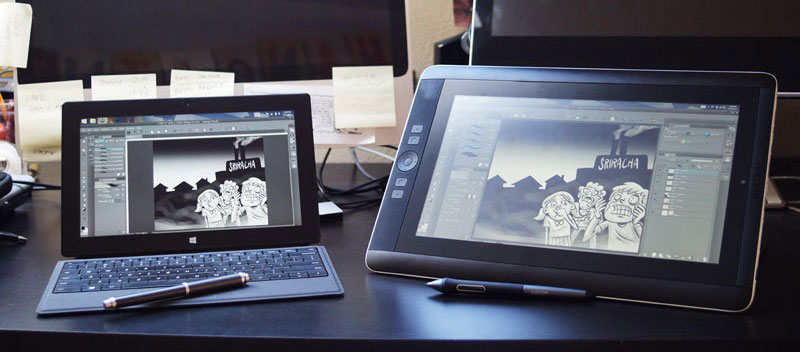 Ever since I got wind about these tablets that are running full Windows 8 and have pressure sensitive screens, I sold my laptop and decided to jump all over that. It was going to be between the Surface Pro 2 and the Cintiq Companion, but which one was it going to be? I've spent the last two weeks with both of them and figured I'd post my experience here.
Although I'm a nerd and am into stats and numbers analysis, especially when it comes to gaming and/or basketball, I'm not really a big tech hardware dude. I'm not going to post all the ins and outs of the hardware here because you can find them in other places. I will tell you that all in all, I think their hardware specs inside are about the same.
Surface Pro 2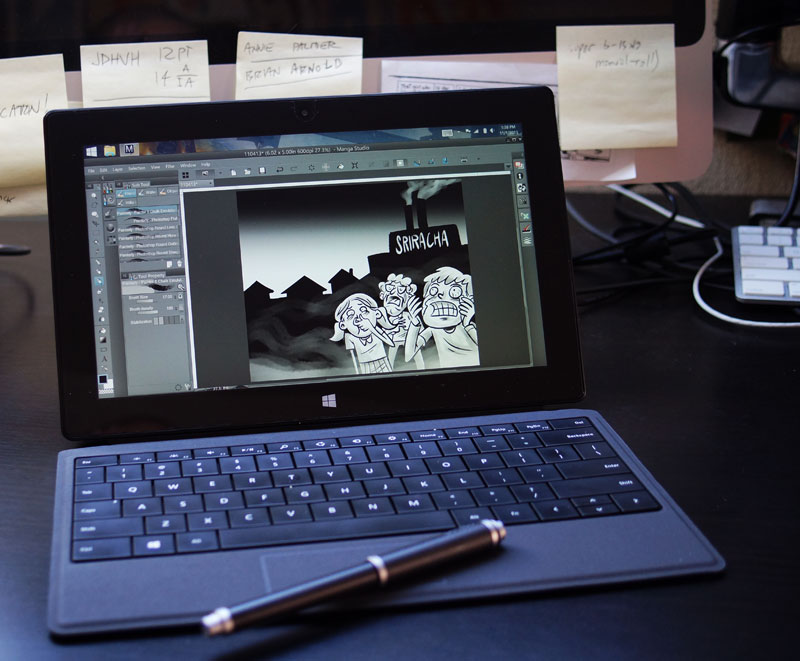 I had heard some internet jibber-jabber about the Surface Pro and decided to head to the Microsoft Store to try one out. The woman that helped me was incredibly nice and was able to answer all my questions and gave me a nice tour of Windows 8. They only had the pre-installed Fresh Paint app to play around with, but I was impressed with the responsiveness of the stylus and overall look and feel of the product. Anyhow, I was pretty sold and placed a pre-order. Having done my research, I also placed an order for a Wacom Bamboo Feel stylus, which was reported by some folks to be more responsive, as well as an external optical drive, which I would need to install Manga Studio which I had on DVD-ROM.
When I got my Surface Pro, the first thing I did was install Manga Studio and the WinTab driver from Wacom, which is supposed to give pressure sensitivity to programs like Photoshop. Manga Studio actually works fine without it, but I figured I'd end up needing it anyhow.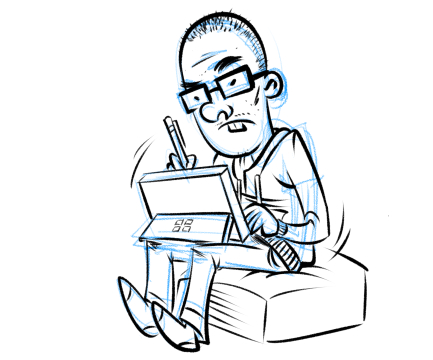 I played around and was totally digging the experience, but then I noticed this weird problem with the calibration in the upper corners. Whenever I would bring the stylus up there, it would shoot out to the corner. Here's a lousy video of the problem:
I did some basic troubleshooting and removed the drivers, recalibrated the stylus, etc. but couldn't get it to work. To make a long, incredibly mind-numbing story short, I ended up exchanging my Surface for a new one which ended up having the same problem. I reached out to the awesome Rick Rodriguez [@SurfaceProArt on Twitter], who runs a really helpful website for anyone that is an artist looking into buying a Surface Pro. We did some digging, some blogging, some tweeting, and even e-mailed someone at Wacom. They were really quick to respond and to try to help out. Here's what we figured out, though if you want to read the full quotes, you should head over to the blog post on Surface Pro Artist:
Basically the problem is with the hardware and the fact that there are fewer coils for stylus sensitivity on the outer edge of the Surface Pro. The problem gets worse after you install the WinTab driver [which is necessary for pressure-sensitivity in programs like Photoshop] because the driver sacrifices accuracy on the outer edge for better accuracy in the middle.
Wacom is working on a driver update that might fix that, and it should be out December-ish. Hopefully that will help, if not solve the issue.
It also seems that although it's a widespread problem, it's not a problem in all the Surface Pros. So my conundrum was do I keep trying to return Surface Pros until I got one that didn't have this problem, or do I need to try something else?
I was able to do some things to help mitigate the issue, like moving the taskbar to the top, and since I use keyboard shortcuts all the time anyhow, it wasn't THAT big of a deal. And responsiveness and calibration was fine for 80% of the screen.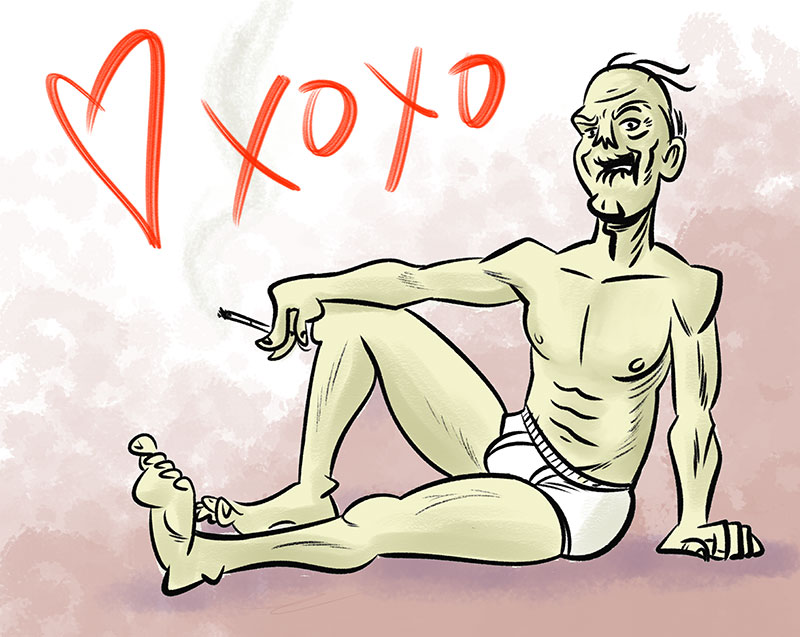 Honestly, outside of this issue, there was a lot to love about the Surface Pro 2. I loved the design. The Type Cover keyboard is light and easy to use and the kickstand makes it  for sitting on the table or the lap. I loved that it could basically run everything that my Macbook Pro could, but now I had a digital sketchbook in it as well. I know some people had complaints about the screen size and that it's too big for a tablet. I didn't find the screen size an issue at all, even in Photoshop, and I didn't ever really think of the Surface Pro as a tablet. It's a laptop that is ultra-portable. You make that screen size bigger and it loses one of the biggest selling points to me. It was exactly what I wanted it to be – strong enough to do any artstuff I needed in Photoshop or Manga Studio, and portable enough to travel with.
The calibration thing was just something that I couldn't stop thinking about, and if I was going to drop some serious cash, I wanted to make sure it was what I wanted, so I decided to order a Cintiq Companion to give it a whirl and compare.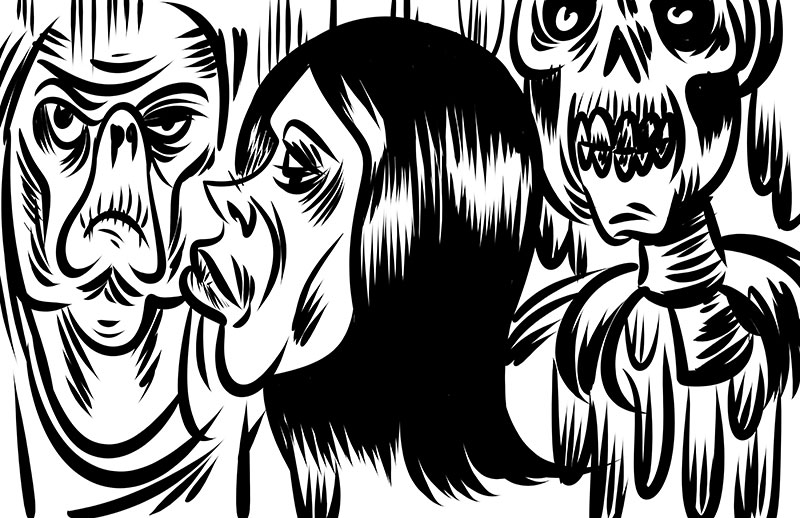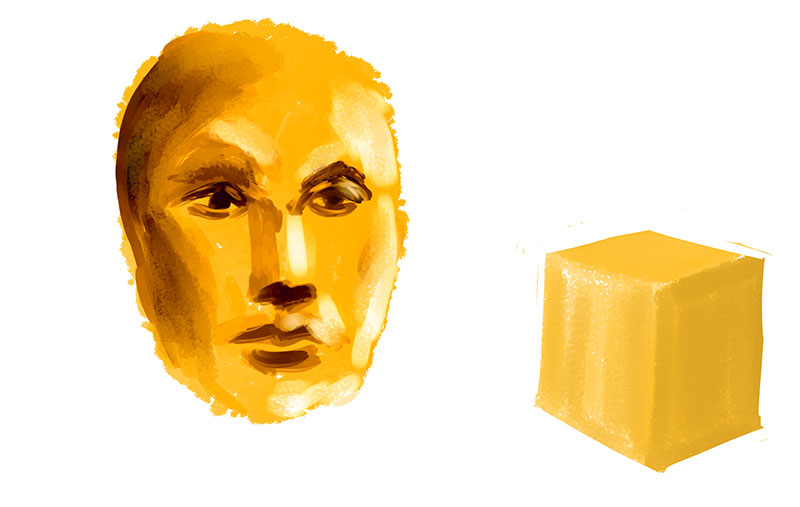 Cintiq Companion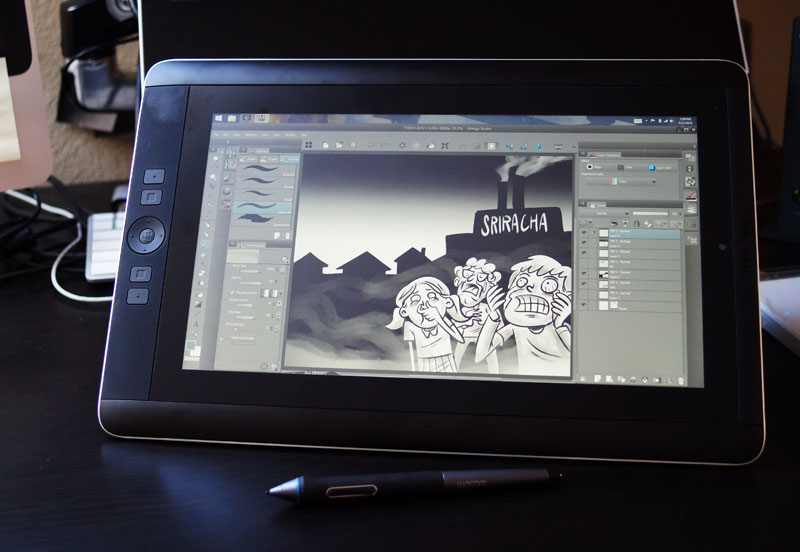 Having already learned my way around Windows 8 with my Surface Pro, setup for everything on the Cintiq Companion was a lot quicker and easier.
The first thing I had noticed that it was a lot less heavy than I thought it would be. I had actually tried out a Cintiq Companion Hybrid a couple of weeks ago, and this seemed lighter than that, which was nice. The stand was the same in both Cintiqs, and sucked balls.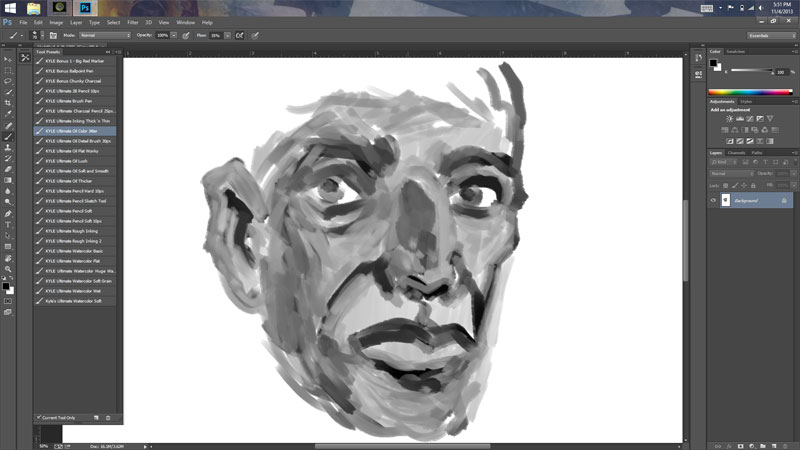 After I fired it up and started doodling, I noticed the stylus still had the upper corner calibration problems, but it wasn't nearly as bad as the Surface Pro. It was a little comforting to know that it must just be a general hardware issue in Wacom digitizers.
Although I didn't have a problem with the Surface Pro's screen size, the larger 13" inch screen was nicer. The drawing experience was better, too. The slightly textured coating on the screen and the responsiveness of the stylus was really, really good.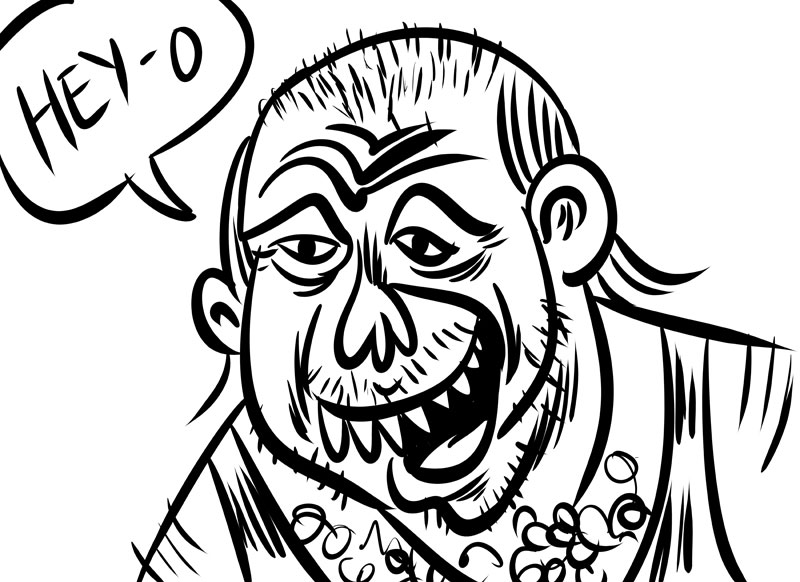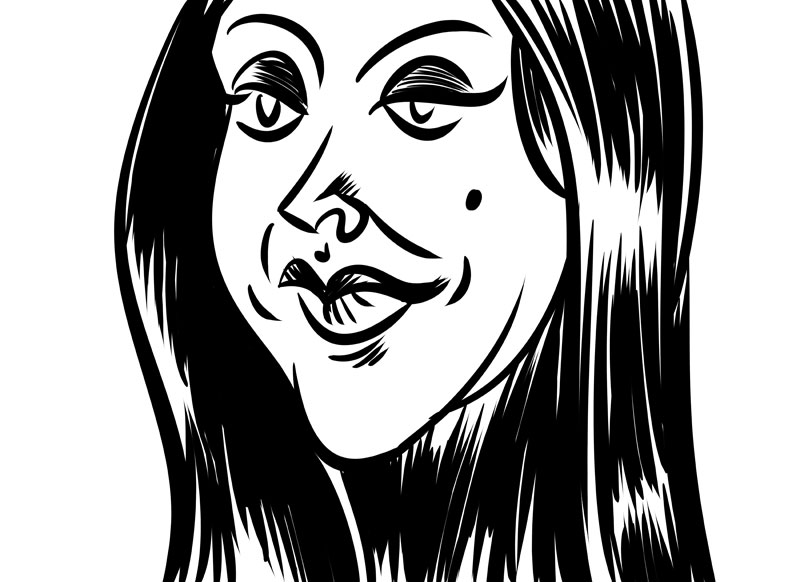 Conclusion
So I spent the last week with both of them, doodling, doing some editing and correction work on some hand-drawn comics pages I was working on, as well as some quick work for a local newspaper. Every time I drew on the Cintiq, I pretty much fell in love, and not because the drawing experience on the Surface Pro 2 is lacking, but because the Companion's is that good. Unfortunately, anytime I did anything else the Surface Pro won out.
I really was torn, because I really liked both of them, but I had to look at what my needs were for my portable hardware, and which one of these suited those needs best. The Surface Pro and it's form factor is really what did it. If this new hardware was going to be my primary work station, then I probably would've gone for the Companion, but it's not. I have an iMac and a Yiynova in my studio. Although I'm in a transition period in my art where I'm feeling my way through where I need to take my art and where digital tools have a place in my workflow, I know I'll never do most of my work digitally. I know that because I enjoy inking too much. It's my favorite part of drawing. I also had to consider that I'm one of those freelancers that hobbles a bunch of things together to make a living, and outside of comics and illustration, the next biggest source of income for me is teaching. I need to be able to write out lesson plans and lectures, get presentations together, write out critiques and comments, etc. In that way, the Surface Pro totally beats out the Cintiq Companion. I hate the stand for the Companion and having to carry around an extra keyboard to type on isn't quick or easy.
All of that being said, the Cintiq Companion is slick as shit, and I'm sad to send it back. But I also knew I made the right decision every time I bust out my Surface Pro. The drawing experience is still really good, and I love that that I can flip the kickstand out, plop the cover out, and get to work. If I worked more digitally, or it was going to be the hardware I did all my work on, it might be a different story.
Price
Yes, the Cintiq Companion is more expensive, but there are some other things to consider. A comparable Surface Pro 2 unit in hardware specs is $1300. Plus you need a Type Cover, which is $130, and a Wacom Bamboo Stylus, which is way better than the stock stylus is going to cost you $40 for the Black, and $80 for the Carbon, which I picked up. You're also probably going to need a case and a screen protector for your Surface Pro, too. So if you went all in on your Surface Pro 2 like I did, with the accessory bundle, the final price comparison is gonna look like this:
Surface Pro 2
• Surface Pro 2, 8GB RAM, 256 SSD comes with stylus – $1300
• Accessory Bundle, includes 2 year unlimited warranty, 2x Screen cover, Microsoft Office, Type Cover 2 – $300 [it saves you about $70 if you needed Office anyhow]
• Slip Case – $40
• Bamboo Feel Stylus – $40-$80
• Optical disc drive [needed to install Manga Studio – $30
Total: ~ $1710-$1750
Cintiq Companion
• Cintiq Companion 8GB RAM, 256 SSD – comes with carrying case, stylus and replacement nibs, stand – $2000
• Bluetooth keyboard – $50
• Optical disc drive [needed to install Manga Studio] – $30
Total: ~ $2080
If you need MS Office, you would need to add another $90 to the Cintiq Companion cost. There are other word processing programs out there, and lots of open source ones that are free too, but for me it's just easier to have Office since it's compatible with the stuff I use at schools and I'm already familiar with it. But as you can see, the price difference isn't as much as it might seems at first. For people buying a Companion to be their primary work station, the extra $350-$400 is totally worth the better drawing experience and larger screen size.
One Final Thought
Here's a pitfall that many artists fall into, including myself, that you have to be honest about and consider when buying any art tool whether it's a brush or a computer – your tools aren't going to magically make you a better artist. I used to do that all the time when I would see an artist drawing in a certain type of sketchbook or using a certain type of tool. In fact, seeing the Crumb documentary is solely responsible for me owning a Rapidograph and drawing with it exclusively for a year.
Owning a Cintiq over a Yiynova isn't going to make you a better artist in the same way that buying the same kind of brushes or sketchbook that your favorite artist uses aren't going to make you draw like them. Imitating is a great way to open yourself up to new tools and new art-making experiences, but in the end good artists get good because they're dedicated and put the time and hard work into it. And good artists find ways to make good art, regardless of the tools in front of them.
Part of me wanted to keep the Cintiq because I saw the stuff that Ray Frenden and Noah Bradley and some other folks were doing with their Companions and part of me fell into that mindset of 'Whoa. If I keep this computer, I will be as good as them!', but I know better.
—
Anyhow, I guess I said all that to say this, I shipped the Cintiq Companion back to Wacom. Not because it's not a sexy piece of hardware, but because it just doesn't fit my needs as much as the Surface Pro does.