So I did a one page comic for the Willamette Week this week about another solution to the much disputed Columbia River Crossing, which is basically the renovation of the bridge from Oregon to Washington.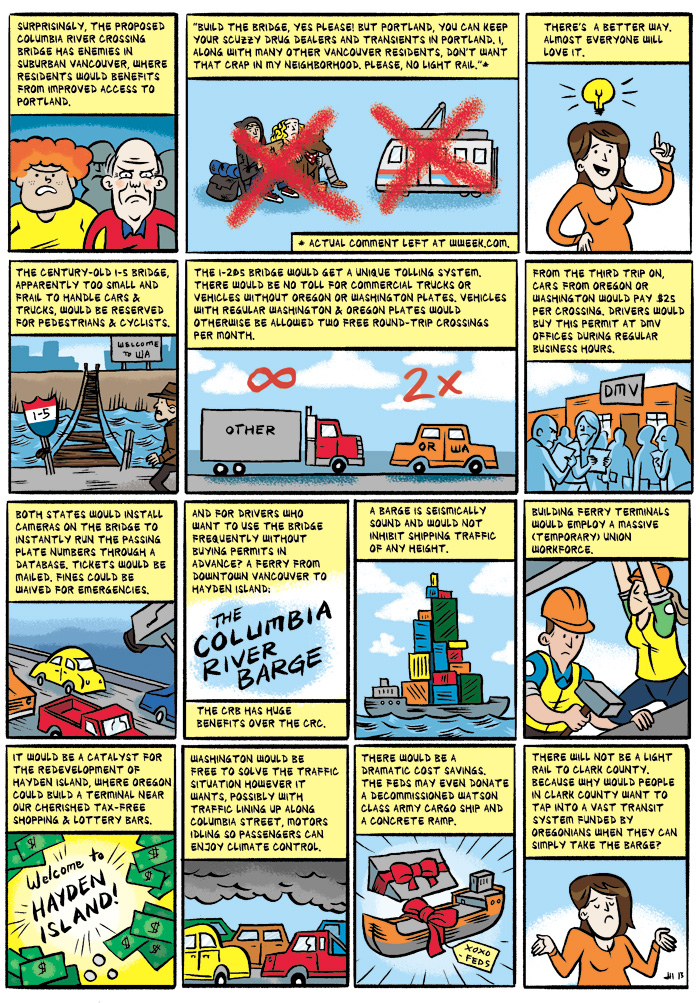 I originally planned, as an experiment, to attempt to do it completely digitally since I've been spending my time the last week or so playing around and experimenting in Photoshop with different techniques. If you're interested in seeing some of the results of my futzing around, you can check out my Tumblr where I've been posting them.
Anyhow, it didn't last very long – I lettered the comic digitally because there was so much copy that I needed things to be a little cleaner and take up less space so I could have more room to draw. Outside of that, I only got the panel borders done before I realized I just wanted to shift over to my drafting table. I know it's something that might take some time, and I also don't really know if it's something I really want to do. Really, I'm just trying to find a way for me to utilize the digital drawing as a tool, but I don't know that I want to use it as a crutch.
Oh, and one more announcement: I will be tabling at the Stumptown Comics Fest this weekend, sharing a table with the always awesome, Breena Bard, né Weiderhoeft, at J-07! Come by and say Hi if you're around this weekend!