I know – it's not even Christmas yet – but things are going to speed by the next couple of weeks, so I thought I'd go ahead and write this now.
So it's the end of another year, and what a great one it has been! I wrote a post last December on the brownpaperbag blog looking back on 2009 and setting some goals for 2010. I thought that it would be nice to use it as a frame of reference when doing my year-in-review post this year.
If you're interested, keep reading! [Warning: It's looooooong.]
2010
Finishing Americus – This is probably the biggest goal I had for the year, and even though it took a lot longer than I thought it would [I finished working on the last bit of cover/design illustration this month], it is finally done.
I only had a vague idea what the the whole editing & post-production process would be like, and it turned out different that I thought. Things that I were worried about weren't really a big deal and then unexpected things happened that created a little more work that I didn't see coming.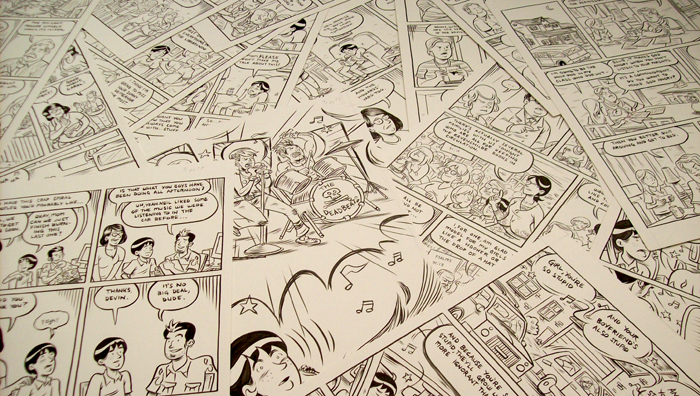 The biggest example of this was being asked by First Second to serialize Americus online. I finished the initial draft of the pages of the book this April, and in the summer while we were waiting for the changes from our editor, they proposed the idea to us. Both MK and I were into it, mainly because it would mean that people would get to read it sooner and we were antsy to get it out in the world.
This, of course, meant that we were going to have to design and create a website and all the work that entails. It wasn't too bad, but it was a little tricky because neither of us were experienced websmiths, so we had to compromise a bit for what we were able to do than maybe what we would have liked to do.
On the other hand, when we got the edits back from Calista, it only involved me redrawing one page and then swapping out some hatching that I had originally done on the computer to something hand drawn. I was expecting to have to draw a handful of new pages, so that was nice.
The other work involved re-lettering the first chapter with a brush [when I did it for Papercutter, I lettered it with a pen], and then toning the Apathea sequences. The biggest issue with these is that I had to scramble to get them done, which was my own fault because I should have been working on them all summer while we were waiting to hear from Calista.
Anyhow, it's done and out of our hands, so now we just wait! I think advance copies should go out next Spring!
Draw My Own Comics – This got slowed down a bunch by how long Americus took to wrap up. Even though I was only able to draw one new comic [which I'm wrapping up now! I'll post it when I'm all finished], I made a lot of progress with the idea for my next book. I also have two ideas for mini-comics in my mind – one will be a one shot story based on one of the concepts in my 2010 BPB calendar, and the other is sort of a cop-out and will just be a collection of some stories that I've had in anthologies the last couple of years. Still, it will be nice to have some mini-comics to take to the conventions in the fall.
Get More Work – My freelance workload this year stayed about the same. Again, I would like to thank the Willamette Week and Ben Mollica for the steady stream of work that they send me. The highlight with my work from them was my two cover gigs & another spread in this year's Finder. The other big illustration news for the year was the illustration I did for the back of the new store map at Powell's City of Books. It's huge [my biggest printed work at 18 x 24!] and awesome and was fun to draw and best of all anyone that walks into the store and picks up a map sees that illustration and sees my name [and can take it home for FREE].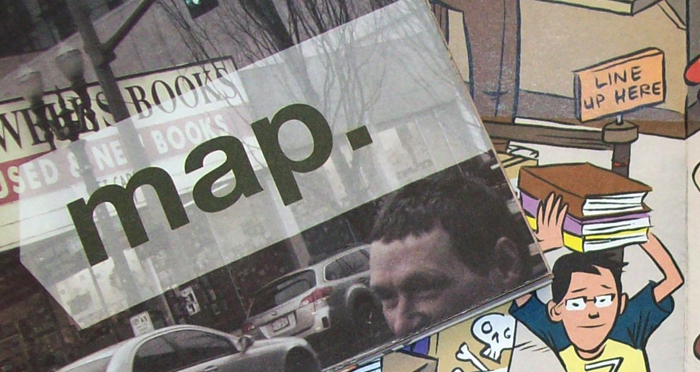 Random Projects – This, unfortunately, pretty much took a backseat. We did some fan art at the beginning of the year, and I redesigned my website two times [though setting it up with WordPress & a blog was a pretty big deal because I had been wanting to do that FOREVER], but outside of that, I didn't have/make time for any of these little projects. The biggest bummer was that I was so busy this fall wrapping up Americus, that brownpaperbag didn't even do a calendar this year. Even though I'm going to be digging into my next project, I hope this is something that picks up next year. Jason and I have an idea for a big, dumb design project, and I want to make some new mini-comics since I'll be hitting up the convention circuit next fall, and we do plan on doing a 2012 BPB calendar.
2011
And here's what I've got on my plate for next year:
New Comics Project – After having drawn from MK's script the last couple of years, I'm super excited to be working on my own stuff.
Once the initial draft of Americus got finished, my plan was to start brainstorming on my next book. This proved to be a lot more frustrating than I thought it would be. Over the last year or so I had a cache of rough ideas, but when I sat down to flesh them out, they either didn't have what it takes to sustain a longer story or they were good concepts, but I felt like there wasn't a personal element to them that would keep my invested.
Jen and I were talking about things that were happening in our families, and it sparked something in my brain. One thought led to another, and that little spark from that conversation started a little fire, and the more I thought about it, the more I fell in love with it and I knew that it was going to be my next project.
I'm hoping to start working on it at the beginning of the New Year, so stay tuned. I'm super excited!
Mini-Comics/Personal Projects – This will definitely get done! We're already have an idea for our 2012 BPB calendar planned and since I'm hitting up some conventions this fall, I'd really like to have some personal work to show alongside Americus. And as I mentioned before, Jason and I have a pretty big, dumb design project that I hope we get around to doing and not just talking about.
Get More Work – I guess the question to go along with this is 'What exactly what I want to do as a professional artist?' Am I comfortable with the way things are getting freelance work as it comes in, keeping a part-time job, and working on comics? Do I want to try to dedicating the time and resources to trying to get freelance work and do that full time? Is that even a possibility as publications are tanking and budgets are being cut? Anyhow, I feel like I'm at a crossroads with these sort of things, and I am hoping to shake things up this coming year, which is both exciting and nerve-wracking at the same time.
Ha ha. I said all that to just repeat my list from last year. Does that mean that I didn't accomplish what I wanted to? Oops.
Anyhow, hope you all have a good 2011!